Looking at the ds106 collection of campers and counselors, I don't think I'm either one. I've got too much experience to be a camper (and I refuse to bunk with anyone), but I'm not counselor material either.
I didn't go to camp as a kid, except for one New Years when my best friend had a job as a counselor for a camp in Sequoia National Park. She talked me into applying to be camp cook's assistant, and I did it. The cook, Owen, was a taciturn guy with a long black moustache who was painfully shy and pretty much ignored me the whole time. I didn't know how to cook anyway. I had never been to camp. And I had never done more than drive through anywhere with snow. The place looked kinda like this: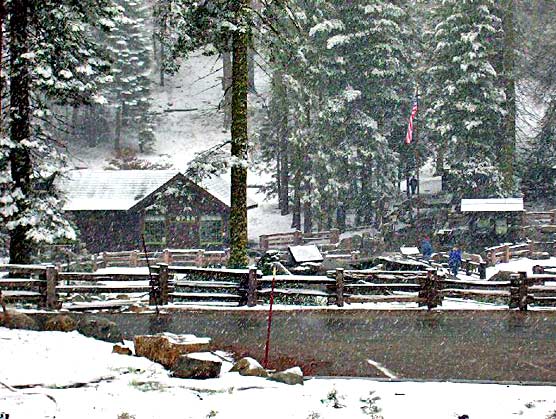 (Photo: National Park Service)
One day I went for a walk after the breakfast rush. I was a big city traveler – I can still find my way around any city even if I've never been there. But in the woods, in the snow, I got lost. The night before, there had been a bear – I heard about it after I took a little kid to the bathroom in the middle of the night so my friend could get some sleep. There were no landmarks I recognized, just snow and trees. I wandered for awhile till I got to the edge of the national park, then somehow I found my way back in time to chop veggies for dinner.
The rest of the week, I pretty much stayed in the kitchen. So if you're looking for me, that's where I'll be.