Finding myself arguing social benefits of an LMS was a sobering experience. It happened tonight in a COOLCast featuring Bon Stewart, who had mentioned that she prefers networks to systems like Moodle because the students can find each other. I shared my story of discovering students finding each other using Moodle Messages. Then I actually argued that some students might feel more comfortable contacting each other inside an LMS, where there is a commonality with other students, all of whom are taking the class. This might be more comfortable than Facebook, where you are supposed to be "friends". In the LMS, you are clearly colleagues and might feel freer to call upon each other for, say, help with the class.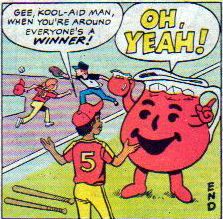 This, combined with my last post including some good things about an LMS or course blog, means I'm diluting the Kool-Aid.*
I know the strong flavor of connectivism, the headiness of open networks, the high of networked learning. I've experienced and studied it in the CCK08 class four years ago, in the joy that is ds106, in Twitter, in Facebook, and Diigo and Google Plus. I am a networked person, a networked teacher. I've read Vgotsky, Holt, Tapscott, Gladwell, Kamanetz, Rheingold. I've taken class with Siemens, Downes, Cormier, Couros and Groom. My articles on why Learning Management Systems are badly designed and anathema for novice online instructors still hold true.
Yet I've been continually skeptical (some would say critical) of ignoring the bad impacts of social media, the privacy violations, the perpetuation of teenage popularity contests through such sites as Technorati and Klout. I've also read Lanier, Bauerlein, and Carr. And I've watched in horror as the wonderful openness that is MOOCs gets commercialized and monetized and universitized and systematized.
I've used Blackboard and Moodle and WordPress. I've watched my own students get lost, inside and outside an LMS. I've seen them ignore the obvious, mislay the instructions, forget the deadlines, fail the class, inside and outside an LMS. I've also seen them fly outside the box, discover wonderful things, build their own learning, both inside and outside an LMS. In my SMOOC I've guided a global contingent of adults in using their own blogs, aggregated to a central blog, and had some get lost, and some get joy.
And each semester I agonize over using Moodle again, feeling trapped in my 6 sections of 40 students each. But I am not a novice online instructor. I create meaningful assignments, and make informed choices about what I have my students do and not do. I can force an LMS to do what I want. So why do I feel pressured to "network" my students' class experience? Will their learning really improve if they search the web for primary sources and post them on their own blog instead of in a dedicated class space? Will they learn history better communicating with fellow (18 and 19-year-old) students in the space where they talk to their friends? Will they become better historians if they follow their own interests to the exclusion of, for lack of a better term, the canon of historical "content" considered basic knowledge in other countries?
All the flavors are important: self-directed learning, open education, constructivism. But a watered-down version, inside an LMS or on a common blog, can let them join the party without passing out in the bathroom. They can use the open web for their research, finding their sources, then return to the familiar "classroom" to get information, post their work, discuss with colleagues.
But me? I can drink the Kool-Aid straight up to study all this. I want it as strong as I can get it for my own learning about the web as an environment for learning and an educational tool. But I wouldn't want that if I were taking an online class in biology, math, or literature. I wouldn't want to go find my colleagues in Facebook if I didn't understand that Coleridge poem or what Assignment 1 was supposed to be about. I'd want a classroom, and class colleagues, and a space I know is dedicated to learning. I'd at least want to start with watered down Kool-Aid and a sippy cap, then get the strong stuff in a big girl cup when I have more experience.
Or, at least, that's what I'm thinking today.
* Cultural literacy note: "drinking the Kool-Aid" is a tasteless reference to the Jonestown Massacre