So I go to get my new eyeglasses, which are some sort of snazzy progressive multi-focal thing. The assistant hands them to me and I put them on. She then tells me to look outside, across the parking lot.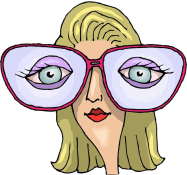 "Look over there toward those trees," she says. "Look through the top part of the lens. Tilt your chin down."
"Now look over here at this table, through the middle part."
Then she hands me a printed chart. "Now look at this printing. You need to tip your head up so you can see through the correct part of the lens. No, not like that. Like this. See?"
Yes, I see. And sure, I'll get used to them (in fact they aren't near as weird as I thought they would be). But what struck me was the way I was expected to change my behavior to suit the technology. It's not that the reading area is too small, it's that I'm not tilting my head up enough. Seems soooo familiar.